310x IP Handset Family
10/100 Ethernet 3101, 3102, 3105
10/100/1000 Ethernet 3103
Most Popular Style
Easy to Program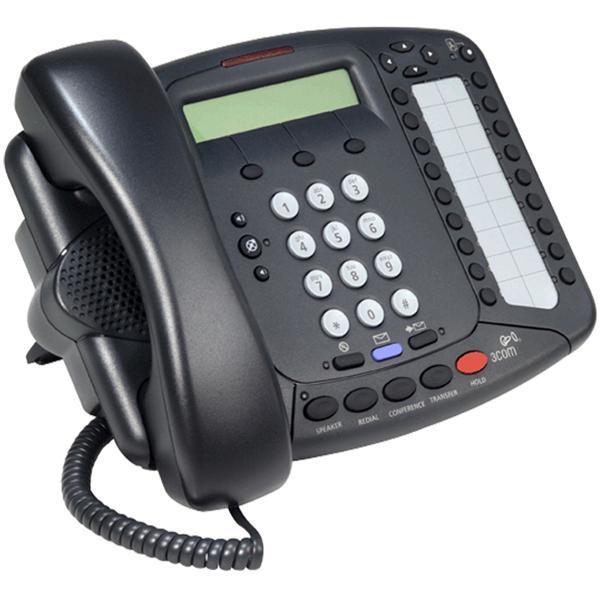 Maximized Productivity with Superior Audio Quality
The 3Com® 3102 Business Phone offers even the busiest, multi-tasking workers the power and flexibility they need. With the capability to support Session Initiation Protocol (SIP) or native 3Com NBX® call control, the phone optimizes voice communications now and offers investment assurance for future deployments.
Users can easily access commonly used features such as Speaker, Redial, Conference, Transfer, and Hold by means of oversized buttons. Dozens of additional capabilities are programmable so the phone can be tailored to meet individual requirements. And an intuitive display provides instant access to the location's user directory and call logs, helping workers keep in touch with each other and with customers.
3Com has placed acoustic excellence at the core of the phone design. A high quality speaker and microphone are carefully matched with the phone's external housing design to maximize speaker volume and minimize "clipping" during full-duplex speakerphone calls. In addition, the 3102 phone, is designed to support emerging wideband audio standards, and includes a built-in headset jack.
Delivers the versatility of 3Com NBX H3 or SIP call control support.
Provides the flexibility of 18 programmable buttons with lights.
Offers the convenience of 10 fixed-feature buttons, including Speaker, Redial, Conference, Transfer, Hold, Voice Mail, Forward to Mail, Hands-Free, Mute, and two Volume controls.
Makes access to user directories and call logs intuitive with a 2-line pixel display.
Enables user interaction with the display via three context-sensitive softkeys and a four-way cursor.
Deliversthe audio performance of a high-quality, full-duplex speakerphone.
Includes a built-in headset jack.
Anticipates evolving standards by being wideband audio-ready.
Enables quick message checks with a large message-waiting indicator.
Facilitates desktop or wall-mount use with a multiposition stand.
Allows one-wire connectivity between the phone and a PC with a 10/100 switched Ethernet dual port.
Supports Power over Ethernet via the IEEE 802.3af standard.
Offers multiple language support with optional language-specific faceplates (German, French, Italian, and Spanish).
| | |
| --- | --- |
| | 3101 Basic Style |
| | 3102 Executive Style |
| | 3103 Manager Style (gigabit) |
| | 3105 Adjunct Consolet |