Things To Know Before You Get Started UniFi LED Panel
System Requirements
An 802.3at-compliant network switch
UniFi LED mobile app software

Mobile device: iOS 10 or Android 5.0

UniFi LED Controller software

Computer: UniFi Application Server (UAS) 0.5.0, Ubuntu 16.04 LTS (Xenial Xerus) 64-bit or Debian 9 64-bit
Web browser: Google Chrome (Other browsers may have limited functionality.)

UniFi Dimmer Switch, model UDIM-AT or UDIM-AC
Hardware Overview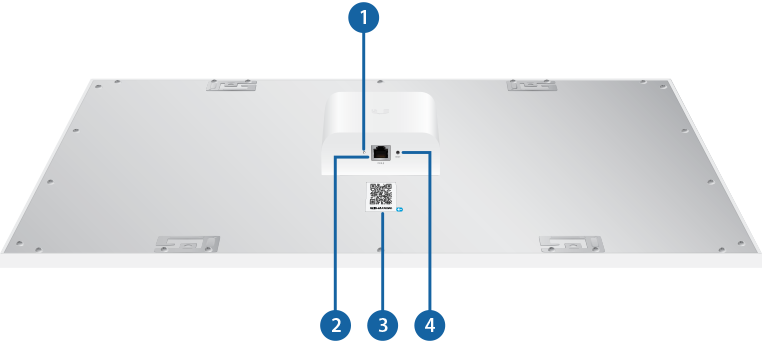 LED

Flashing White

Initializing.

Steady White

System ready.

Steady Blue

Adopted by LED Controller.

Alternating White/Blue

Firmware upgrade is taking place.

PoE+

The PoE+ port is a 10/100 Ethernet port used to connect the power and should be connected to the LAN. Power is provided by a UniFi Switch with 802.3at PoE+.

| | |
| --- | --- |
| | Note: The PoE+ port requires 25W of power, which can be supplied by an 802.3at-compliant UniFi Switch. |

MAC Sticker

Used to scan the MAC address. For details, refer to "Quick Setup".

Reset

The Reset button serves two functions:
Hardware Installation
To install and configure the UniFi LED Panel: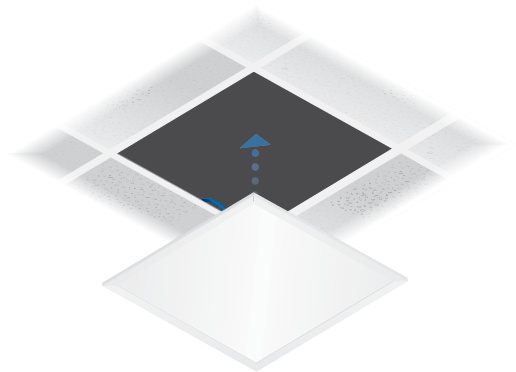 Configuring the UniFi LED Panel
Follow the instructions for the software you wish to use:
UniFi LED App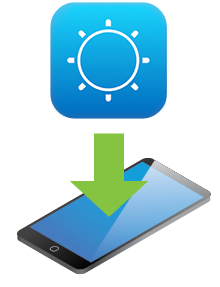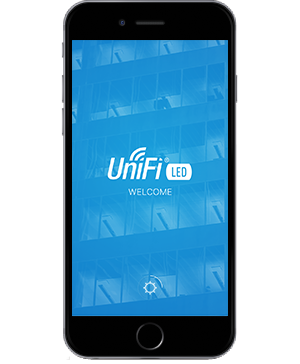 Follow the on-screen instructions to configure the UniFi LED Panel.
UniFi LED Controller Software
Install the latest version of the UniFi LED Controller software on a computer on the same Layer 2 network as the UniFi LED Panel:

Ubuntu users 

Download the software from 

ui.com/download/unifi-led

UAS users 

Install the software using the UAS management console.

Launch a web browser and go to 

https://localhost:20443

The UniFi LED Controller will appear, allowing you to configure the UniFi LED Panel, as well as customize other settings.

For additional details on the UniFi LED Controller, refer to the documentation available at: ui.com/download/unifi
Quick Setup
This section describes the Quick Setup procedure for installations with large numbers of UniFi LED Panels and Dimmer Switches. The Quick Setup requires using the UniFi LED app along with a QR Code Log that you create. Each UniFi LED Panel or Dimmer Switch has a removable MAC Sticker on its reverse side; this has a QR code used to scan the device's MAC address. The Quick Setup consists of these steps:
Create the 

QR Code Log

Install the LED Panels and Dimmer Switches
Scan the QR codes
Create the QR Code Log
Download the 

QR Code Log

 template at: 

ubnt.link/QR-Code-Log

Print out as many copies as needed (each sheet can log up to 16 LED Panels and 3 Dimmer Switches).

Fill in the 

Site

 (such as "1st Floor Meeting Room") and 

Controller

 (such as "UniFi LED Controller") on each sheet.
Install the LED Panels and Dimmer Switches
For each device: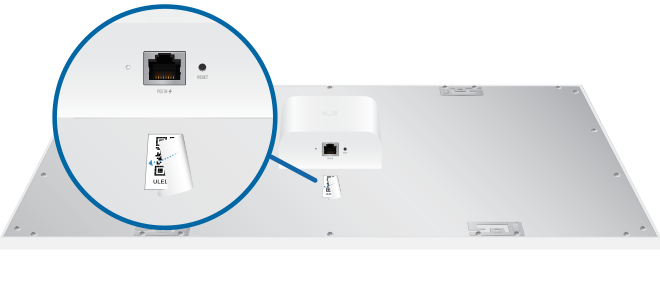 OR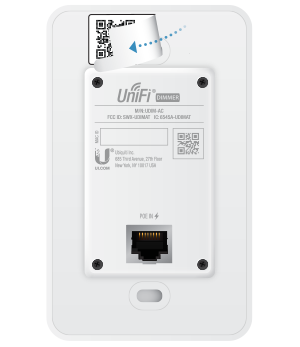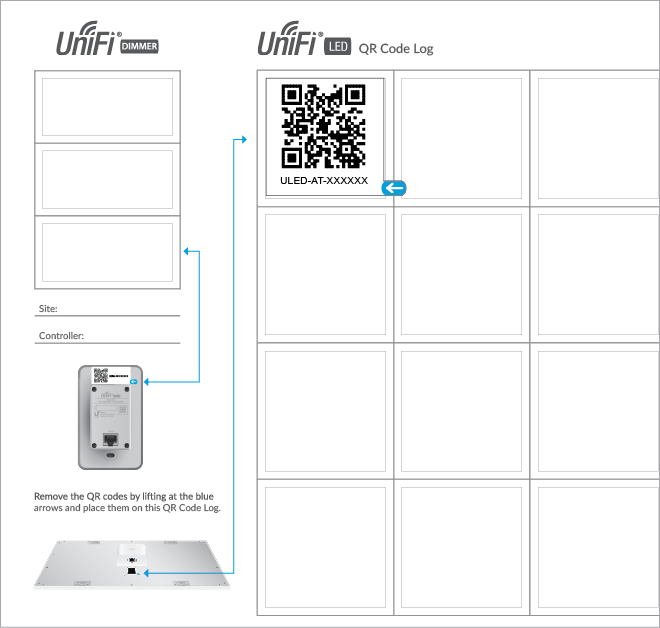 OR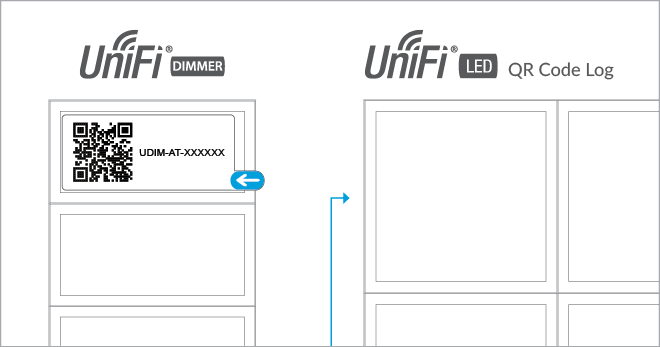 Install the device as described in the Installation section of the device's Quick Start Guide.
Scan the QR Codes
The UniFi LED app will guide you through the process of adding devices by scanning the QR codes on the 

QR Code Log

 sheet(s).
| | |
| --- | --- |
| | Note: For smaller installations, instead of scanning the QR codes, you can also use the UniFi LED app's Locate function to identify and assign individual LED Panels to their groups. |
Specifications
ULED-AT

Dimensions

602 x 602 x 56.7 mm (23.7 x 23.7 x 2.23″)

Weight

4.5 kg (9.92 lb)

Networking Interface

10/100 Mbps Ethernet Port

Connectivity

Bluetooth 4.1

Buttons

Reset

LEDs

Status

Power Method

802.3at PoE+

Supported Voltage Range

Standard PoE+ 42.5-57.0V

Max. Power Consumption

25.5W

Mounting

Standard T-Grid

Operating Temperature

0 to 40° C (32 to 104° F)

Certifications

FCC, IC
Lighting

Initial Delivered Luminance (Max.)

2300 lm

Efficacy

100 lm/W*

CCT

4,000 K

L80

> 50,000 hrs

CRI

> 80

Beam Angle

114°

Brightness Control

10-100% Dimming

Environment

Indoor Dry Location
Safety Notices
Read, follow, and keep these instructions.
Heed all warnings.
Only use attachments/accessories specified by the manufacturer.
| | |
| --- | --- |
| | WARNING: Do not use this product in location that can be submerged by water. |
| | |
| --- | --- |
| | WARNING: Avoid using this product during an electrical storm. There may be a remote risk of electric shock from lightning. |
Electrical Safety Information
Compliance is required with respect to voltage, frequency, and current requirements indicated on the manufacturer's label. Connection to a different power source than those specified may result in improper operation, damage to the equipment or pose a fire hazard if the limitations are not followed.
There are no operator serviceable parts inside this equipment. Service should be provided only by a qualified service technician.
Limited Warranty
The limited warranty requires the use of arbitration to resolve disputes on an individual basis, and, where applicable, specify arbitration instead of jury trials or class actions.
Compliance
FCC
Changes or modifications not expressly approved by the party responsible for compliance could void the user's authority to operate the equipment.
This device complies with Part 15 of the FCC Rules. Operation is subject to the following two conditions.
This device may not cause harmful interference, and
This device must accept any interference received, including interference that may cause undesired operation.
This equipment has been tested and found to comply with the limits for a Class A digital device, pursuant to part 15 of the FCC Rules. These limits are designed to provide reasonable protection against harmful interference when the equipment is operated in a commercial environment. This equipment generates, uses, and can radiate radio frequency energy and, if not installed and used in accordance with the instruction manual, may cause harmful interference to radio communications. Operations of this equipment in a residential area is likely to cause harmful interference in which case the user will be required to correct the interference at his own expense.
This radio transmitter has been approved by FCC.
IMPORTANT NOTE
Radiation Exposure Statement
This equipment complies with radiation exposure limits set forth for an uncontrolled environment.

This equipment should be installed and operated with minimum distance 20 cm between the radiator and your body.

This transmitter must not be co-located or operating in conjunction with any other antenna or transmitter.