GPS Trackit
GPS Trackit® from Metropark is a family of GPS-based tracking and management solutions that collect and send vital information between your operations staff, mobile workers, and fleet vehicles. GPS Trackit helps reduce your business costs, potentially increase your profits, and stay in regulatory compliance. Equip any asset you choose with a GPS device that enables two-way communication over the AT&T or Verizon wireless network, by using:
A hardwired modem for vehicles
An asset tracking device for trailers and other valuable equipment
A smart device for mobile workers
Our GPS Trackit suite includes multiple products that you can use to track and communicate with your fleet vehicles, assets, and mobile workers:
Fleet Management
Asset Tracking
Field Service
ELD HOS Compliance
Temp Monitoring
Video Telematics
Public Transportation
Fleet Management
Fleet Tracker makes it possible to manage and track your fleet vehicles in real time via a modem that is installed in the vehicle. Receive critical alerts, automate driver logs and manifests, and run reports on past activity to help streamline your operating costs.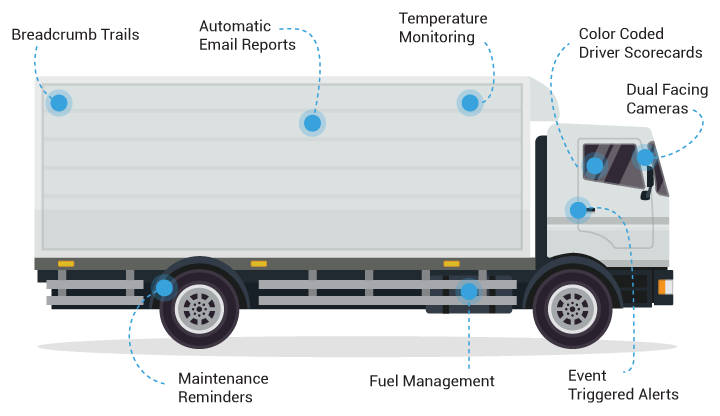 Potential Benefits
Decrease fuel costs by optimizing dispatch processes.
Lower vehicle related costs by managing excessive speeding, idling, or other aggressive driving behaviors.
Use the maintenance module to manage service visits and decrease unscheduled maintenance costs.
Decrease administrative costs by reducing manual processes and paperwork.
Reduce speeding fines and the costs associated with them.
Provide your customers with accurate arrival times.
Warn your customers ahead of time about unforeseen circumstances or delays.
Detect unauthorized use of vehicles and out-of-route activities.
Protect your company's reputation by monitoring aggressive driving.
Features
Real-time interactive maps that let you view where your vehicles are
Speed alerts
Speed reports for identifying patterns and risks
Landmark alerts
Landmark reports such as time spent or driver interaction at landmarks
View and generate mileage summaries
View assets and status on a map
Remote main power disconnect
Alerts for Geofence and landmark breaches
After hours alerts
Scheduled daily reporting or locate on demand
PTO alerts (tow alerts, boom alerts)
Expedited vehicle repossession
Text & email alerts
Starter disable
Backup battery (optional)
Asset Tracking
Asset Tracker allows you to track and manage high-value assets including containers, trailers, and expensive equipment that is usually left in the field.

Potential Benefits
Reduce the risk of lost or stolen assets.
Decrease the costs associated with the recovery of lost or stolen items.
Make the most efficient use of your assets in the field.
Monitor the status of your assets without having to physically check them.
Features
Track and manage your valuable assets.
Improve asset visibility with real-time location information.
Create invisible fences (geofences) around areas where you want your asset to be.
Track assets that don't have a power source for up to three years, based on one location transmission per day.
Ping work sites on demand.
Easy to install.
Weather resistant
DOT Compliance Made Easy
The ELD mandate compliance deadline is rapidly approaching — is your fleet ready? Our ELD solution gives you a comprehensive suite of easy-to-use, compliant fleet management tools. With GPS Trackit, it's compliance made easy.

What is the ELD mandate? What's the ELD compliance timeline? Get the answers all your questions and access the most up-to-date information with our ELD FAQ's below. Not sure if the ELD mandate applies to your business? Take our free, online ELD Assessment to find out.
*Requires purchase of separate device.