Android, Apple, or Windows: Which OS is for Me?
We get this question all the time. "Should I go with Apple, Android, or Windows for my tablet?" There are many more considerations for a tablet than the Operating System, but for now let's focus only on the OS.
When the iPad came out way back in 2010, there were basically five main tablet Operating Systems to choose from: Apple's iOS, Google's Android, Microsoft's Windows, RIM's BlackBerry Tablet OS, and HP/Palm's webOS. Fast forward to today and only three remain. If you already have a preference among Apple iOS, Android, or Windows, the decision becomes much easier; if you don't, follow along for an overview of each.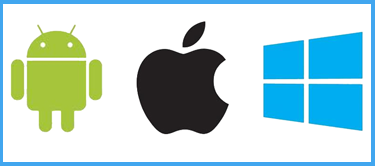 Android
Google's brainchild, this Operating System continues to have the largest potential because it's open-source. This allows for millions of developers to use the source code to invent new things with it. In addition to the developer community, it's also the OS of choice for some of the best tablets on the market, including those from Samsung, Lenovo, and even Amazon's Kindle Fire line. An advantage of the Android OS is its great compatibility with Google's suite of apps or services such as Gmail, Google Maps, and Google Docs.
Additionally, it's a more open system that's 'tinker'-friendly and has fewer restrictions. This is a good OS for hackers and tech-savvy folks who like to customize their interface or fiddle around with the OS. It's also a good OS for non-tech-savvy consumers who want an alternative to the iPad. Make sure to consider that some tablets, like the Kindle Fire, use a skinned custom version of Android and aren't as open as the regular.
iOS
This is the closed and proprietary operating system of the king of the tablets — the iPad. The popularity of Apple's iOS is irrefutable, although it's been challenged by shrinking sales and market share recently. You could debate that this OS has the simplest and most easy-to-learn interface. While more tech-savvy folks may not like that, average consumers and non-techy people will appreciate it the most. If you are someone who has already invested a lot of time and resources into an iTunes collection, you will prefer the compatibility and convenience iOS provides. Plus, don't forget the huge selection of apps that Apple has waiting for you! A popular downside is that it's a more closed system, but some have learned how to jailbreak the iOS — though we don't recommend that.
Windows
Yep, Windows is still kickin'. Kicking pretty hard, in fact. Thanks to its new line of Surface tablets, consumers now have more exciting options for a Windows slate — including one with a lighter version of its OS or a tricked-out version that runs the full-fledged Windows OS. Some folks might say that full Windows on a tablet is bloated overkill, but for power users on the go, it's still nice to have a full-fledged PC operating system to work with. The biggest upside is that it does basically everything a PC does. Since Windows 8, Microsoft also changed the old Windows look and adopted a more modern smartphone and tablet-friendly design.
More Info
Contact our Sales team with any questions you may have or to get started purchasing new tablets for your business! Give us a shout at (314) 439-1900 #1 or fill out this form: