Burstable Call Paths
Your company just received special mention in the media and you have a brief uptick in sales orders.  Unfortunately, you have purchased a preset number of phone lines from the phone company and you are returning a busy signal to your new sales orders.  Ouch!!!
An MPVEX Call Path (a.k.a. SIP Trunk) includes an enhanced "burstable" voice channel feature that, when enabled, will temporarily allow for more call paths to magically appear on your MPVEX phone system…  more than initially provisioned on your Metropark Voice Exchange system, in order to accommodate bursts of high phone call traffic.  Your uptick in new orders can now be handled. Yay!!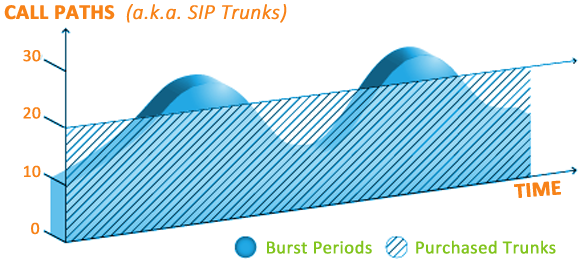 Burstable Call Paths or burstable SIP trunking has been a much needed option for seasonal businesses, customer support departments, contractors, schools, call centers, and nonprofits.  It can be highly valuable to all businesses, even those who don't immediately envision the benefits.
Most of today's phone companies DO NOT or cannot provide this enhanced feature, but Metropark Voice Exchange (MPVEX) is very happy to accommodate.  The two typical ways MPVEX provides Burstable Call Paths:
Fixed Burst Capacity – With fixed call path bursting capacity, you don't pay any elevated costs for your agreed upon base call paths (20 in the picture above).  MPVEX allows you to pay the standard low rate for base call paths, but from time to time. when needed, you can burst your call paths (lines) by two, three or even more additional lines.  If you start to use the bursting call paths on a frequent basis then we all should agree that it's time to increase your purchased base call paths.  This type of burst capacity is ideal for most businesses.  The burst capacity is always there in case you need it, but you are not required to pay for it, until you use it!! Pretty Cool!!!
Large Burst Capacity – With large bursting, you can pay a little more money per month, per call path (line) for your agreed upon base call paths or SIP Trunks.  This is typically cost effective for companies that have periods when they are flooded with calls.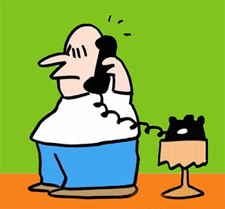 Real World Application #1: Yummy St. Louis Style Pizza parlors may only need a few phone lines during normal business hours, but may receive a drastic increase in calls during major events like the Super Bowl.  In those situations, pizza parlors would benefit from having the ability to receive a large number of inbound calls.
Real World Application #2: Call centers often run special marketing campaigns in which they encourage clients and prospects to "Call Now for Our Important Offer."  Again, the elevated cost of the monthly base call paths justifies the benefit of having all inbound calls covered by the system or reach a representative.  It may be a good time to have the MPVEX Call Center Add-On at this time too!!!
Benefits of Burstable Call Paths
Many businesses use Burstable SIP Trunks:
 to increase their call completion rate avoiding the "busy signal"
 to handle the expanded call volume, regardless of call density.
 to significantly lower costs
 to handle brief spikes in call volume
 to better manage the customer experience
If you'd like more information about Burstable Call Paths, contact your Metropark Account Rep, emailing support, or give us a shout at (314) 439-1900 #1.