Business IP Security and Automation
The natural attention on IP Cloud Technology these days, seems to revolve around mobility, communications, and business applications (APPs).  But a very important business concern has also become a member of the IP Network… Security and Automation.  Many years ago, Metropark quietly became a natural resource in upgrading or updating your existing Alarm system, but with so many more new options to boot.
Let's look at what you probably have now:
Your doors and windows have contacts, to watch for after hour entries.
Your halls have motion detection to keep a watchful eye on things moving in your offices.
Your ceilings have smoke and carbon monoxide detection for fires or gases.
You may have a panic button at the front desk
You have a panel that dials out to your alarm monitoring company if anything becomes alert-able.
Your alarm company calls you (or 911) to alert you about things alert-able.
And that's about it.  You pay the alarm company to keep an eye on doors or if motion happens.  If so, they pick up the phone and call you!!  You then tell them to cancel the alarm or call the police.  What an old method… if fact, that is so 1985!!
But Metropark and Alarm.com provide you with so many new and better ways to protect your offices and adding business automation, while keeping the traditional alarm features in place.
The New Way – Security and Automation!!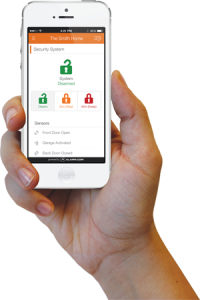 We remove that expensive analog line
Instant notification via text, email, direct calling and push notifications
Office automation: turn items on and off depending on circumstances
Notify when and who opens the office
Notify if office is not opened or closed on time
Take a snapshot of someone doing something they shouldn't
Review the whole video of someone doing something they shouldn't
Turn off the coffee maker every day at a certain time
Turn up or down the HVAC system at certain times of the day or night
Turn on lights when an employee comes through a geofence
Turn on the coffee maker at 6:30am
….  Well, you get the idea.  Literally, thousands of options for you from Metropark!!
If you have an old-timey alarm system or need to add automation to your business, we really should meet.  Let us show you how you can get so much MORE done, while paying LESS!!