Improve Customer Satisfaction with New Technology
Being out front of your competition must include communicating with your customers successfully. Positive customer communication can make the difference between an okay year and a great year. New Technology can also play a helpful role in achieving that level of success you are always striving for.
At the heart of effective customer communications, you will find your ability to increase sales, gain repeat business, and increase referrals. But by communicating poorly or vaguely, you can quickly see sales decrease, customers becoming frustrated, and a poor word of mouth.
Below are some helpful statistics for identifying and deploying new customer satisfaction strategies in your business.
Consumers tell twice as many people about poor experiences than positive ones. (White House Office of Consumer Affairs)
Seventy-eight percent (78%) of consumers have abandoned a transaction because of poor service. (American Express)
Ninety-one (91%) of dissatisfied customers will not willingly do business with you again. (Lee Resources)
Resolve a complaint in the customer's favor and they will do business with you again 70% of the time. (Lee Resources)
Forty-five (45%) percent of people share negative customer experiences on social media, with 35% of people likely to post negative online reviews after a poor experience. (Dimensional Research)
Eighty-one (81%) of consumers who switched loyalties say the company could have done something differently to keep them as customers. (Accenture)
Phone calls are still the primary channel for customer communications: Social media channels handle just 3% of all customer communications, compared to 68% who contact customer service by phone. (New Voice Media)
78% of consumers have bailed on a transaction or not made an intended purchase because of a poor service experience. (American Express survey)
A typical business hears from 4% of its dissatisfied customers, with 96% not voicing out their complaints, and 91% never coming back. ("Understanding Customers" by Ruby Newell-Legner)
On average, loyal customers are worth up to 10 times as much as their first purchase. (White House Office of Consumer Affairs)
It takes 12 positive experiences to make up for one unresolved negative experience. ("Understanding Customers" by Ruby Newell-Legner)
It is 6-7 times more expensive to acquire a new customer than it is to keep a current one. (White House Office of Consumer Affairs)
According to consumers, customer service agents failed to answer their questions 50% of the time. (Harris Interactive)
78% of customer claim that a happy customer experience means interacting with competent customer service reps. (The Cost of Poor Customer Service" by Genesys Global Survey)
Eighty-six percent (86%) of people won't purchase from a business that has negative online reviews. (Dimensional Research)
70% of buying experiences are based on how the customer feels they are being treated. (McKinsey)
86% of consumers quit doing business with a company because of a bad customer experience, a marked increase of dissatisfied customers compared to 59% 5 years ago. (Customer Experience Impact Report by Harris Interactive/RightNow,)
Employees only ask for the customer's name 21% of the time, despite the fact that everyone loves hearing the sound of their own names. (ContactPoint Client Research)
58% of Americans perform online research about the products and services that they are considering purchasing. (Jim Jansen, Pew Research Center's Internet and American Life Project)
Over 2 million people view tweets about customer service every week. Roughly 80% of those tweets are negative or critical in nature. (Touch Agency)
Take Away

(in one long sentence)

Provide ample training for your customer service people with multiple ways for them to listen to your customers, especially on the phone, and provide them with the tools necessary to identify the problem and quickly resolve the problem, so as to provide your customer with a happy experience, so they won't share their negative experience with their friends and followers over multiple social media and word of mouth.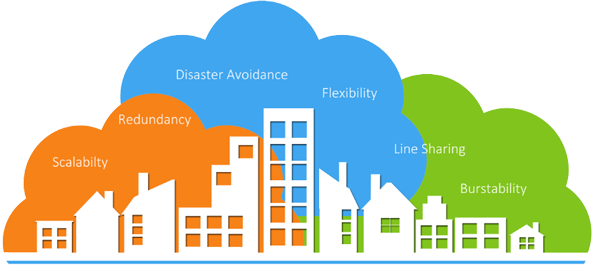 New Technologies which help improves your Customer Experience
Nimbus Mobile Softphone for Apple or Android devices, so you are always available
Call Center Queues
Wall Board viewing
Business SMS Chat
HD quality voice
Voicemail to Email for immediate call-backs
Calling Groups
Find Me Follow Me
Remote worker VoIP
Bluetooth headsets
LTE Redundancy for Always On Availability
Call Audio Recording for training or confirmation of customer information
Off Site and On Net transferring of important calls to escalation personnel