Microsoft 365 Business
Microsoft 365 (previously known as Office365) is a subscription service that lets you run your organization in the cloud while Microsoft takes care of the IT for you, managing devices, protecting against real-world threats, and providing your organization with the latest in business software.
When you sign up for Microsoft 365 Business through Metropark's VCP program, you get all the same productivity tools you use now like Outlook, Excel, Word, PowerPoint, etc., and you get them for up to 5 of your PCs, Tablets, and or phones.
Benefits
SCALABILITY
WORK ANYWHERE
EASY COLLABORATION
YOU'RE ALWAYS UP TO DATE
REDUCES CAPITAL SPEND
ELIMINATES HARDWARE
REDUCES ENERGY COSTS
INSTALLS ON UP TO 5 DEVICES PER USER
ADVANCED SECURITY FEATURES
ENHANCED EMAIL CAPABILITIES
AFFORDABLE PRICING OPTIONS
What Comes With Microsoft 365 Business?

Microsoft 365
Microsoft 365 adds more power to your business by making it easier to communicate and collaborate with others. You can get these great applications online and installed apps on your drives: Outlook, Excel, Word, Powerpoint, OneDrive, OneNote, Skype, Teams & Sharepoint.

Email and Calendars
Access your email and calendar from your computer, the web, and smart device

Office Web Apps
Access your email and calendar from your computer, the web, and smart device

Website
Launch and sustain a professional website for your business
Instant Messaging, Presence, and Conferencing
Connect immediately with colleagues. Set up and conduct online meetings

Mobility
Get virtually anywhere access on nearly any device* so you can be productive on the go

Security and Trust
Microsoft helps keep your data safe and private
Learning Video & Product Demo
Microsoft 365 Pricing
Microsoft 365


Business Basic
$6.00 user/month
(Annual subscription – auto renews)
Included In Business Basic
Web and mobile versions of Office apps only
Chat, call, meet up to 300 attendees
1 TB of cloud storage per user
Business-class email w/Standard security
Anytime phone and web support
Web and Mobile Apps & Services
Microsoft 365


Apps for Business
$8.25 user/month
(Annual subscription – auto renews)
Included In Apps for Business
Desktop versions of Office apps with premium features
1 TB of cloud storage per user
Standard security
Anytime phone and web support
Web and Mobile Apps & Services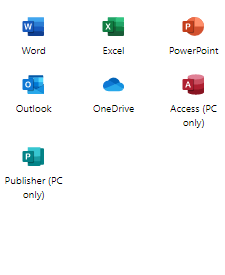 Microsoft 365


Business Standard
$12.50 user/month
(Annual subscription – auto renews)
Everything in Business Basic, plus:
Desktop versions of Office apps with premium features
Easily host webinars
Attendee registration and reporting tools
Manage customer appointments
Web and Mobile Apps & Services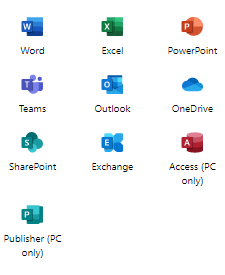 Microsoft 365


Business Premium
$22.00 user/month
(Annual subscription – auto renews)
Everything in Business Standard, plus:
Advanced security
Access and data control
Cyberthreat protection
Web and Mobile Apps & Services