MPVEX Conference Calling
In the early 1950's, Bell Labs invented Conference Call technology. WOW!! Oh how the times have changed. Since then, people making or taking a call with more than two people on the line is considered a 'Conference Call'.
Metropark Voice Exchange (MPVEX) provides conference calling in a few different ways:
Phone Device Conference – With new SIP technology, your SIP-based phone has the ability to make several calls and merge them together right at your phone. MPVEX provides the call paths and your MPVEX SIP phone 'conferences' the two separate calls together. A conference call also works in this same manner with your Nimbus phone on your Apple or Android device.

Meet-Me Conference – You may need to host conference calls that have many people on the line. The most efficient means of accomplishing this is to provide a number and pin to gain access to the meeting. For this, MPVEX is ready when you are — just ask your Metropark rep or support team to set it up if you haven't done so already. Setting up your Meet-Me Conference Room is a simple addition!
Take a look at the easy-to-use interface: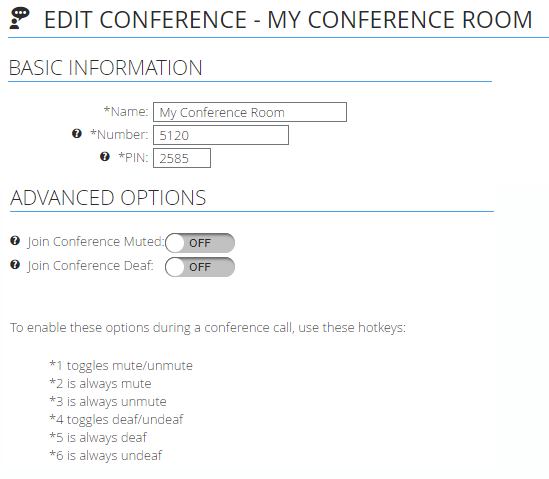 Now that you've seen some of the MPVEX capabilities, let's work on the art of conference calling. It's a skill worth building if you're running a modern business today, and as much an art as any other form of presenting. Due to the influx of new technology and the costs/time associated with traveling, the conference call has become a huge part of doing business and there's no escaping it.
Let's check out a few ways to improve the effectiveness of your conference calls:
Be Happy
The content you're presenting isn't the only thing that matters. The way you deliver information is key to capturing your audience's attention. How you talk on the phone is no different than how you present yourself when on stage in front of an audience. Realistically, your conference call is similar to being on stage with lights bright enough that you can't see anyone in the audience. Smile while you speak and your positive energy will come through – the people on the other end of the phone will be able to sense and feel your smile. Try it!
Keep Your Energy High
Similar to public speaking, the energy you put in is directly proportionate to the energy you'll get back. What is a great result in a conference call? Everyone enjoying the call! By bringing energy, you'll lift everyone up and build better rapport. Inflect your voice. Get excited about the items you care about. Tell stories that bring out your passion. At a minimum, speak clearly and with sufficient volume so everyone on the call can both hear and understand you.
Be Yourself
Conference calls can be like e-mails – it's too easy to lack emotion, interpret things wrong, and dismiss the opportunity to build relationships. Since you've saved so much time by not traveling, use some of the conference call time to build rapport and get to know people. It can be as simple as asking everyone for an introduction or as meaningful as talking about family/life at the beginning and/or end of the calls. Do what you'd normally do if you were in person for the first few minutes – say hello, check in with each other, and ask questions not related to the call topic. Be a person — not a robot — at the end of the phone.
Know Your Technology
There's nothing worse than a presenter who has never used the conference call technology and wastes the first ten minutes getting setup. Dial in early. Setup and test the service well before you meet. Most conference calls are very short and nobody wants to sit around wasting valuable time on users who aren't prepared.
Focus
The benefit of a conference call is speed. No flights, no hotels, no time wasted to get the meeting started. Don't waste all that time by being at the meeting, but not taking part. Focus your time and energy on the topic, the people, and the overall meeting. Eliminate distractions by hiding your smartphone, turning off e-mail, and taking notes the old-fashioned way: pen and paper. If you're easily distracted when you're not talking, taking notes will help you stay engaged. It's also a great way to capture questions you want to ask when appropriate.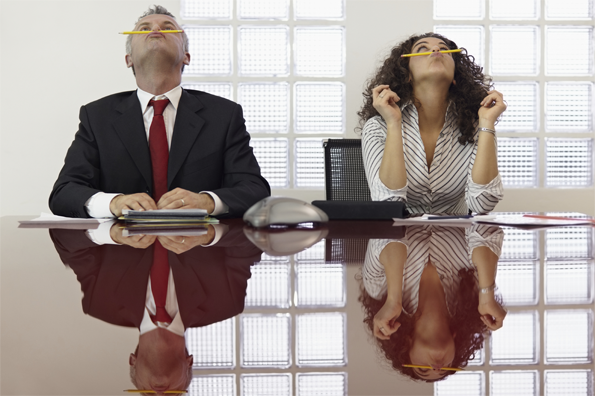 What do you do when you feel like nobody is listening to you?
There's no worse situation as a presenter on a conference call than people on the other line placing you on mute. They give you no feedback, no laughter, nothing. You may as well be an audio-book or a pre-recorded webinar! Don't worry. These few skills we've gone over will help you. Your smile and energy will brighten the room. Be yourself to gain rapport with your audience and people will unmute themselves to ask you questions. Stay focused and ask questions yourself to verify you're on the right track (this is a great way to engage everyone and force them to unmute themselves). You might even find ways to make technology engage people more.
On your next call dial in 5 minutes early, greet everyone as they join, be sociable and inquisitive, and SMILE. If you do nothing else but smile, you're going to have a better call!
Benefits of Conference Calling
Eliminates the need for "face-to-face" meetings
Eliminates wasted time and money spent on traveling
Keeps meetings short and focused on your topic
Increases productivity for everyone at the meetings
Enables fast brainstorming meetings with different participants
Creates flexibility — use your phone anywhere at anytime
For additional information about our MPVEX Conference Calling services, contact your Metropark Account Rep, contact our Sales team below, or give us a shout at (314) 439-1900 #1…whichever is easiest for you!!