MPVEX Enhanced 911
"I have an MPVEX IP Phone at my house.  If I call 911 for an emergency, will the first-responders show up at my office or my house?"
We hear this question often enough and the answer is very easy… "It depends on what addresses you have associated with your MPVEX phone number(s).
First, let's understand how the 911 system works.
History of 911
In the United States, the first effort for a nationwide emergency telephone number was in 1957, when the National Association of Fire Chiefs recommended use of a single number for reporting fires.
In 1967, the President's Commission on Law Enforcement and Administration of Justice recommended that a "single number should be established" nationwide for reporting emergency situations. The use of different telephone numbers for each type of emergency was determined to be counterproductive during different emergencies.
Other Federal Government Agencies and various governmental officials also supported and encouraged the recommendation. As a result of the immense interest in this issue, the President's Commission on Civil Disorders turned to the Federal Communications Commission (FCC) for a solution.
In November 1967, the FCC met with the American Telephone and Telegraph Company (AT&T) to find a means of establishing a universal emergency number that could be implemented quickly. In 1968, AT&T announced that it would establish the digits 9-1-1 (nine-one-one) as the emergency code throughout the United States.
The code 9-1-1 was chosen because it best fit the needs of all parties involved. First, it met public requirements because it is brief, easily remembered, and can be dialed quickly. Second, because it is a unique number, never having been authorized as an office code, area code, or service code, it best met the long range numbering plans and switching configurations of the telephone industry.
Ever since 1968, communities and governments have built and enhanced their emergency centers.  The telephone people call the emergency center… PSAP – Public Safety Answering Point.

911 vs E911
Since the late 1960s, the 911 system has relied on a physical wire being associated with a physical address or location.  In the 1990s, with the birth of wireless and VoIP phones, the address and location can be more mobile in nature, so some "Enhancements" needed to be added to the 911 system.  So the 911 system is still active in 96% of the country.  The PSAPs are mostly converted to Enhanced 911, but as your emergancy call is transfered to different PSAPs or police districts, you may be asked for your location again and again…
Location Location Location
If you call 911, you might be surprised how often call takers ask where you are. Each time a new voice comes on the line, you'll be asked for your location (at least an address and sometimes more specific) as well as the phone number from which you are calling. This might even be confirmed a second time by each voice. In a call that's only transferred one time, you will potentially be asked for your location and phone number four times.
Don't be discouraged by this. It's not like the call takers forgot what you said or weren't paying attention. The location of an emergency is the most important piece of information in any 911 call. No matter what happens after you tell them where you are — let's say a meteor falls from the sky and takes out the phone line — the call taker has what he or she needs to send somebody driving a vehicle with red lights on top to your emergency.
There's a common misconception that at each PSAP, the 911 computers always know where you are when you call. This function is known as Enhanced 911 (E911) and is available in most places around the country. It uses a national database for addresses, but if your phone company is not up-to-date with the latest technologies, the database is sometimes wrong. Plus, that only works with landlines and updated phone services which use Enhanced 911 technologies like MPVEX. Cell phones don't always relay your location to the PSAP.
MPVEX – Enhanced 911 Details
We use your phone number as the identifier just like in the old days.  Let's say your business in located at 1234 Hainey Ave in Green Acres.  Your main number is 314-555-1212.  Old world 911 services would use your phone company's billing address as your physical location for your business.  So if you were to pick up the phone and be recognized as using 314-555-1212, the PSAP would send your call to your local Green Acres police dispatch department.
But with new technology, we don't need to rely on the phone company's billing records any longer, we can provide crucial location information to the PSAP database within minutes (it takes a bit longer to process throughout the US).  So if you have a phone with a number, like a DID, or a branch locations number anywhere in the US, we can easily provide this type of information to the 911 authority. 
Add or change your company's Enhanced 911
.
This is what Metropark's main number's E911 information looks like, but can be changed very quickly should we need to move our phones to another location, during a flood lets say…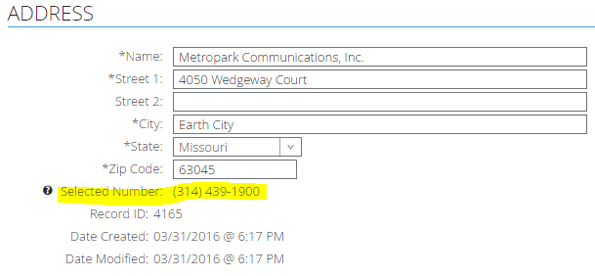 A picture is worth a 1000 words
Look at the what happens when you dial 911 from your MPVEX phone

Benefits to Enhanced 911
First Responders can locate your emergency faster
Easily change addresses of remote locations
No longer tied to Phone Company Billing records
Add floors or suite numbers in high rise buildings
Meet compliance with government 911 authorities