MPVEX Mobile Presence
If you are out of the office… can you see if your employees back in the office are idle or on the phone? SURE!!
The PBX world calls the ability to see if other phones are idle or on a call… BLF Presence. Now that many people work outside the traditional office space, Presence has always been guess work at best. But with your MPVEX NimbusPhone you can see the "presence" of anyone on your team and be mobile at the same time. MPVEX Mobile Presence.
With Presence Groups, you can view the live status of any user in your organization! This MPVEX feature enables you to take not only your business telephone number with you to lunch or a nice fishing hole, but it allows you to have the same kind of visibility that would be available from the office!
How does it work?
Click your MPVEX Nimbus Softphone on your Smartphone or Tablet. (Apple or Android)
Go to the HOME screen. if its not there already
Click on the Presence Group icon.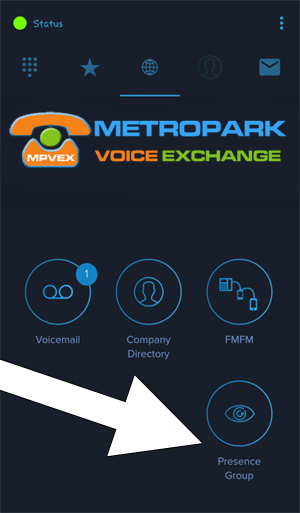 The people you have chosen to be in your group(s) can be seen on your screen. Hey look Brian's Presence Icon is
YELLOW
. That means he is either dialing out our receiving a call. Whoa… it just turned
RED
. That means Brian is on the phone. It looks like the Kevin and Matt's phones are idle and ready.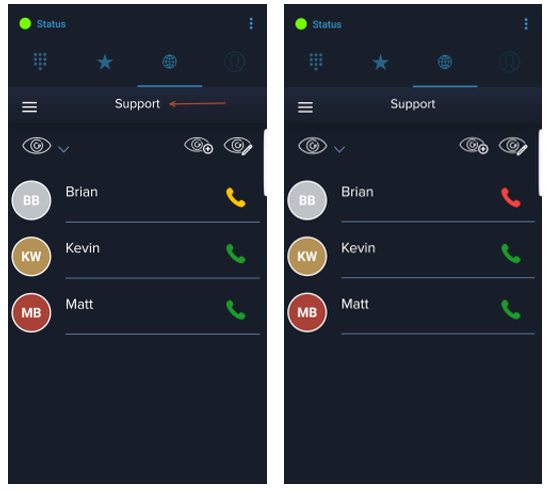 Yep, you can have multiple groups to see the presence quickly of your multiple teams. You can even add other group members from the Company Directory… rather easy too!!
Green:

This user is available to receive a call.

Yellow:

This user's phone is currently ringing or they are in the process of sending a call.

Red:

This user is actively on a call. Trying to engage them by pressing the phone icon will prompt you to verify that you would like to send this call, even though the user is busy.
Benefits of Mobile Presence
See the status of your team before interrupting them with a call
Interested team leaders can check on status of agents when out of the office
Be on the office desk phone or the nimbus softphone and still have presence visible
See when a person on a long conference call becomes available