MPVEX SMS/MMS Business Texting
Metropark Voice Exchange introduces SMS/MMS Texting — a well known method of communicating with friends and family — to your business. Though a large portion of your young and growing customer base prefers communicating via text, SMS/MMS Texting is relatively new for businesses.
You pay to have your phone numbers answered, to receive faxes, and to receive emails, but can your business number send or receive a text? With MPVEX, now you can. When you market your business to your customers and prospects, make them aware they can text your main phone number (or other specified direct inward dialing numbers) and your assigned employee(s) will be able to communicate them via SMS/MMS Text… their preferred method of communicating — see graph.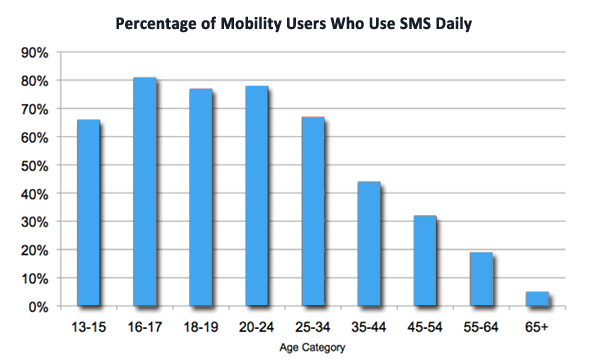 Let's go over a few of the unique benefits:
Immediate Deliverability
SMS is extremely fast and efficient. It puts your message in your customer's and future customer's pockets or purses seconds after you send — the average time for all mobile carriers and SMS/MMS services is less than 6.8 seconds from send to receive. We all work hard to make sure your other marketing strategies are incredibly fast, but nothing compares to the speed of SMS/MMS Texting.
Immediate Opt-In Strategies
Acquiring new customers can be a long and arduous process. Have them opt-in to your SMS/MMS stream — it's quick and easy! Unlike other opt-in options, there is only one step. Plus, save entering a mobile number, there is rarely any personal information required up front. In the SMS/MMS marketing business, you want to make the opt-in process as quick and simple as possible.
High Open Rate
Compared to emails, SMS/MMS has a staggeringly high open rate. Strikingly high percentages of SMS/MMS Texts sent are opened (98% on average), while a much smaller fraction of emails delivered are read (20% on average). Additionally, e-mail services have many filters that may prevent your digital mail from ever being seen at all.
High Conversion Rate
There is a remarkably high rate of action with SMS/MMS Texts. If you are using SMS/MMS for an ad campaign, promotion, or new contest, there is more action taken with SMS Texts compared to other marketing strategies. Customers who recieve texts have a 40% higher conversion rate than those who don't.
Short To-The-Point Messages
To have SMS texting success, you need to rely on shorter messages. In fact, the 160-character length of SMS forces you to have a short, to-the-point message that is both compelling and simple — a huge benefit for your marketing copy. Customers and prospects can often only give you a few seconds of their attention, making SMS texting a win-win for both parties.
High Tech Business Persona
A growing demographic of consumers have slowed their use of e-mail and moved toward text messaging. MPVEX SMS/MMS Business Texting will show customers and future customers alike that you are keeping up with new technologies when you send personalized messages or promotions via SMS/MMS text. It may be that advantage you needed to win over the next generation of consumers.
Dependable
SMS/MMS doesn't have to battle against spam or other e-mail filters. SMS/MMS texting is a straight-line connection to your customers without any barriers.
Immeasurable Market Potential
There are more cellphones in the United States than there are people — an estimated 400+ million phones in America. Don't you think it's time to add SMS/MMS texting to your communication strategies?
Features
Receive SMS/MMS texts to your business's main number
Send SMS/MMS texts using your business's main number
Send text messages to one or more contacts
Turn on/off notification sounds/vibration
Direct call back contact in MPVEX NimbusPhone
Easy reply message window
Message icon displays unread texts in Bold
Copy and Paste text from another program or location
Displays a history of your texts
Contact photos for easy identification
Delete unnecessary texts
Easy one button message to contact list
Color Separation of conversations for easy organization
MPVEX NimbusPhone capable for always available communication

72% of millennials are currently texting at least 10 times a day and 90% of text messages are read within three minutes of delivery. The likelihood of reaching and engaging consumers on their mobile devices is continuing to increase. More and more businesses are in favor of SMS/MMS marketing and communicating — don't get left behind.

By 2025, 50% of SMS/MMS business text messages consumers receive will be from their preferred businesses. Companies have a huge, untapped opportunity to use text messaging to communicate with their customers. Currently, millennials are receiving 0-5 text messages from businesses a week, with 20% noting they never receive texts from them at all. It is suggested by many marketing companies that over the next few years, companies will be forced to address this SMS/MMS Text consumer demand by implementing SMS/MMS — or face irrelevancy.
Resources: TextMagic Infographic from Small Business Trends
If you'd like additional information about MPVEX SMS/MMS Business Texting, contact your Metropark Account Rep, contact our Sales team below, or give us a shout at (314) 439-1900 #1…whichever is easiest for you!!