MPVEX Boomea / Unified Communications
Boomea is our new Unified Communications (UC) Platform which can be accessed from a web browser or can be installed on all major platforms including Windows, iOS, Linux, and Android.
Boomea is re-imagining data management and centralized communications and empowering users to quickly and efficiently interact in the enterprise space using a growing number of communication methods.

BOOMEA is…
SMS/MMS Business Texting
Phone Integration with MPVEX VoIP Services for:

Quick-Call to any of your devices
Always growing, much more to come…
A Deeper Dive (with a few Boomea screenshots)
Chat Messaging
Simply a better way to communicate with your teams and other key people.  Direct message, group messaging, send files, follow ups, search history, and so much more.  Works on any browser and Apple and Android devices!!  Emojis are included and file attachments are supported.
Public Channels
Private Channels
Direct Messages
Mentions
File Sharing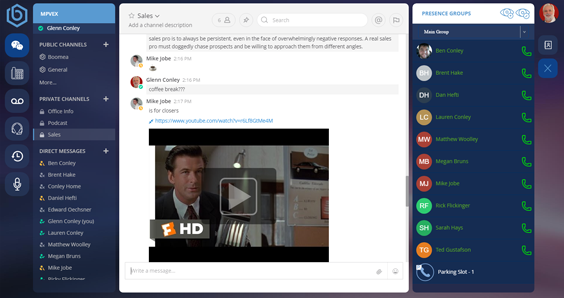 Phone Settings and Call Routing (FMFM)
From Phone Settings, you have the necessary info that most users forget. Under Call Routing a user may manage their own call routing by defining which devices to ring, in which order, and for what duration of time. Other configurable options include:
No Answer Route
Busy Route
Outside Time Frame
Route Time Frame Schedule
Your Call History records from MPVEX are pushed to the BOOMEA application in real time so a user can be up-to-date with their calls, both inbound and outbound calls, missed and received.
Voicemails
When the user gets a voicemail from MPVEX, the voicemail will be sent to the BOOMEA application and the record will appear without the need to refresh anything. The user may then listen to the voicemail, download, and/or delete the voicemail. When a voicemail is deleted, it removes it from the user's voicemail in their phone as well for easy voicemail management!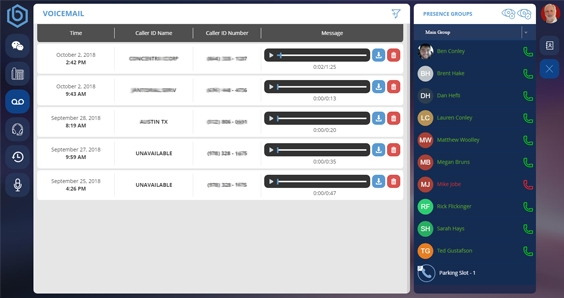 Call Center Console
A user can access the MPVEX Call Center Console from the Boomea application. This enables a user to Login, Ready, Away, Logout all from the boomea app.  The call center supervisors can monitor the status of their queues and agents in real time while they go about their day. The interactive display allows the user to click on an agent and see their specific queue statistics.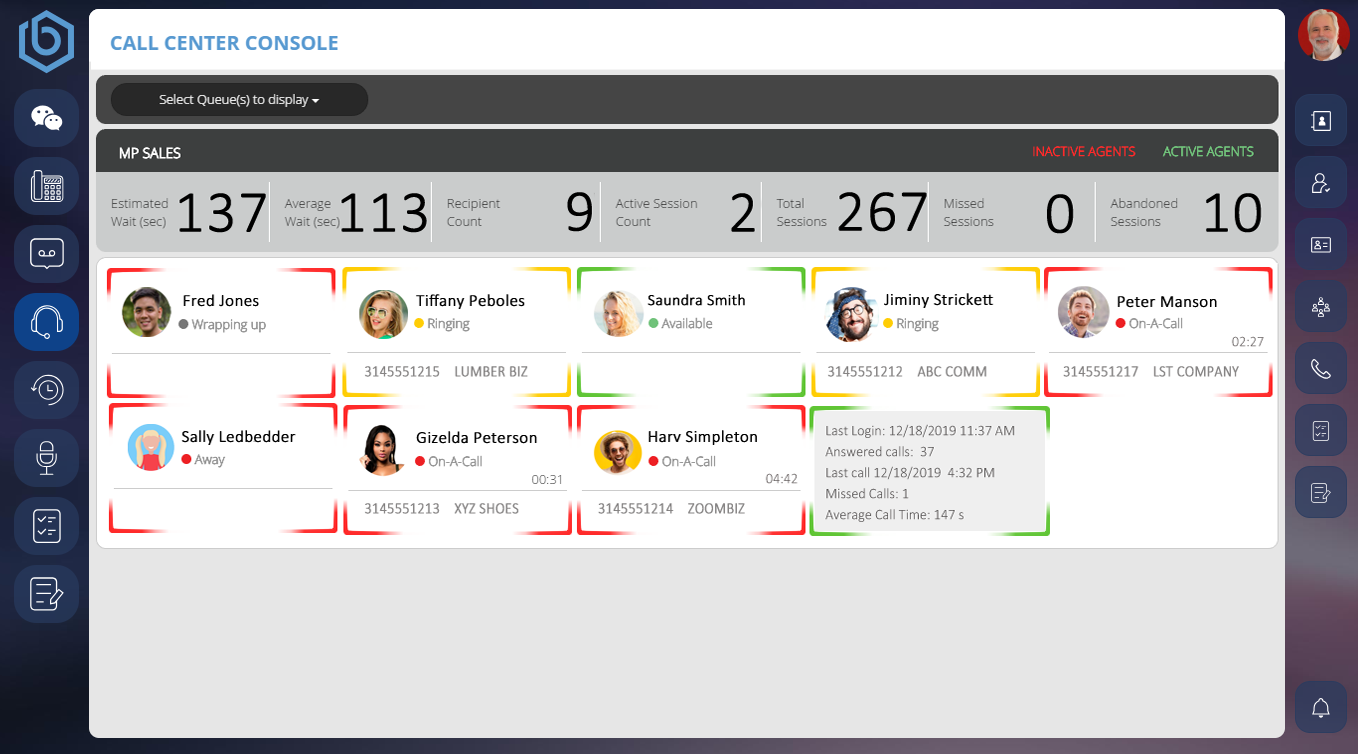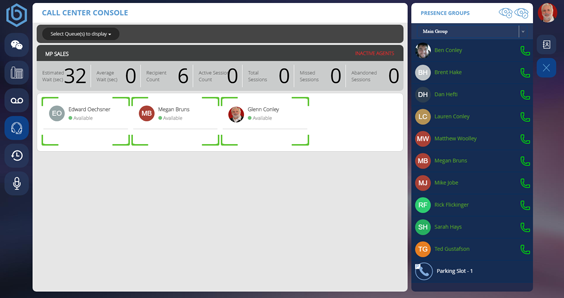 Call History
From the Call History Tab, you can see who called, how long, the callers record, add to a task or a note.  Call History is no longer a boring list of past calls. They now have some searchable and productive records for you!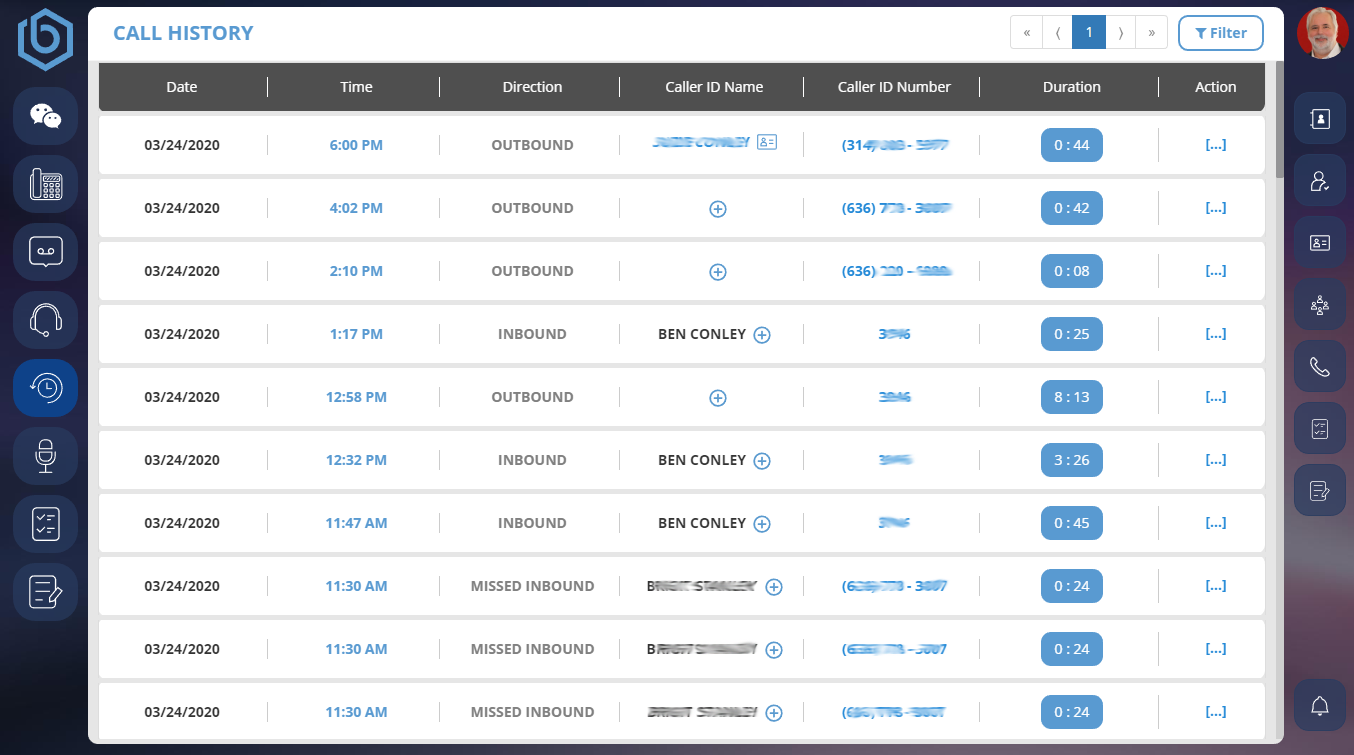 Call Recordings
When a user is recorded on the MPVEX platform, the recording will be sent to the BOOMEA application and the record will appear without the need to refresh anything. If the user has access to other user's recordings via management permissions (in MPVEX), this user will be able to review, play, download, and/or delete all recordings they have access to. The user may only delete a recording if they are given the delete action specifically by management permissions.  Call recordings are ordered by date and time and display the name of the user that was recorded.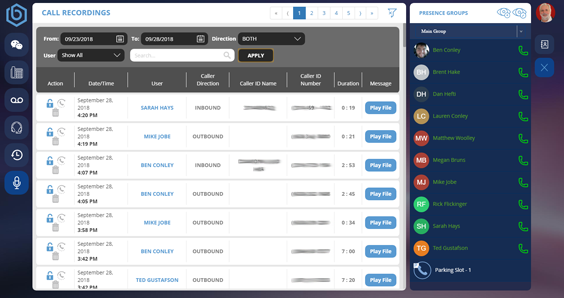 Tasks
Keep track of all your tasks in one spot and you can even link your tasks to this items:
Call History
Chat History
Call Recording
Voicemail
Another Task
Note
Contact
Boomea keeps track of all your communications, so now all you need to do is link them all together. Tasks are managable and fun. Boomea Task App for Apple and Android is a great productivity enhancer!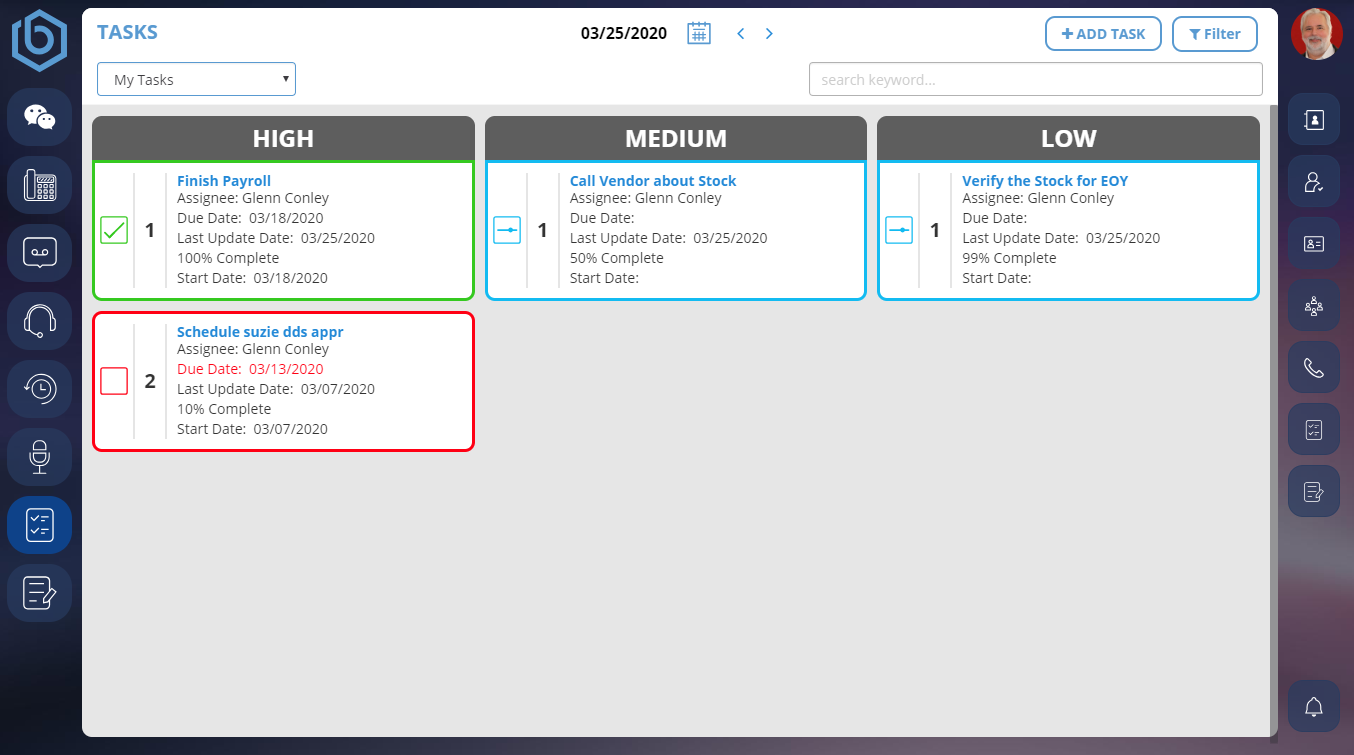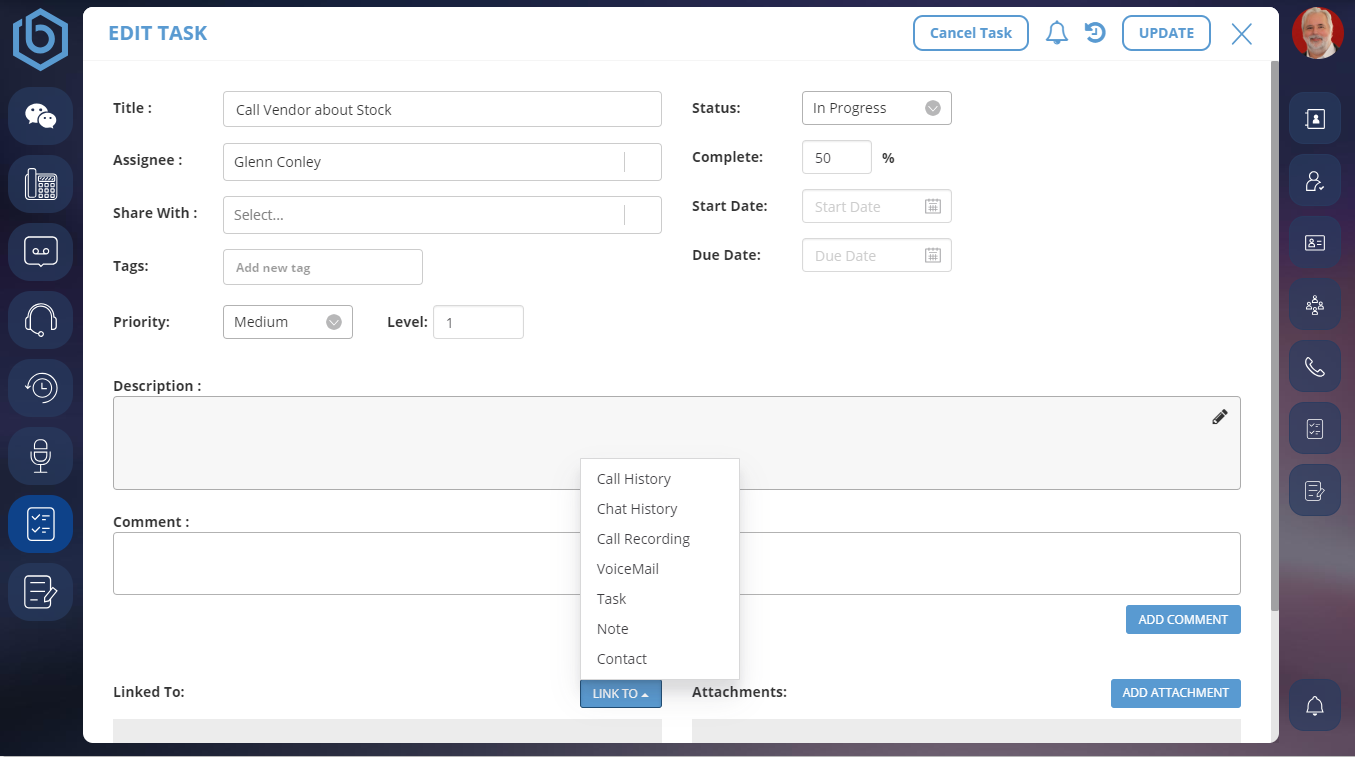 Notes
We all have a ton of places to keep notes, but doesn't it make sense to keep them in the same place as your other communications.  Business or Personal, Boomea makes your note taking and note usage much easier.  Boomea Note App for Apple and Android is a great productivity enhancer!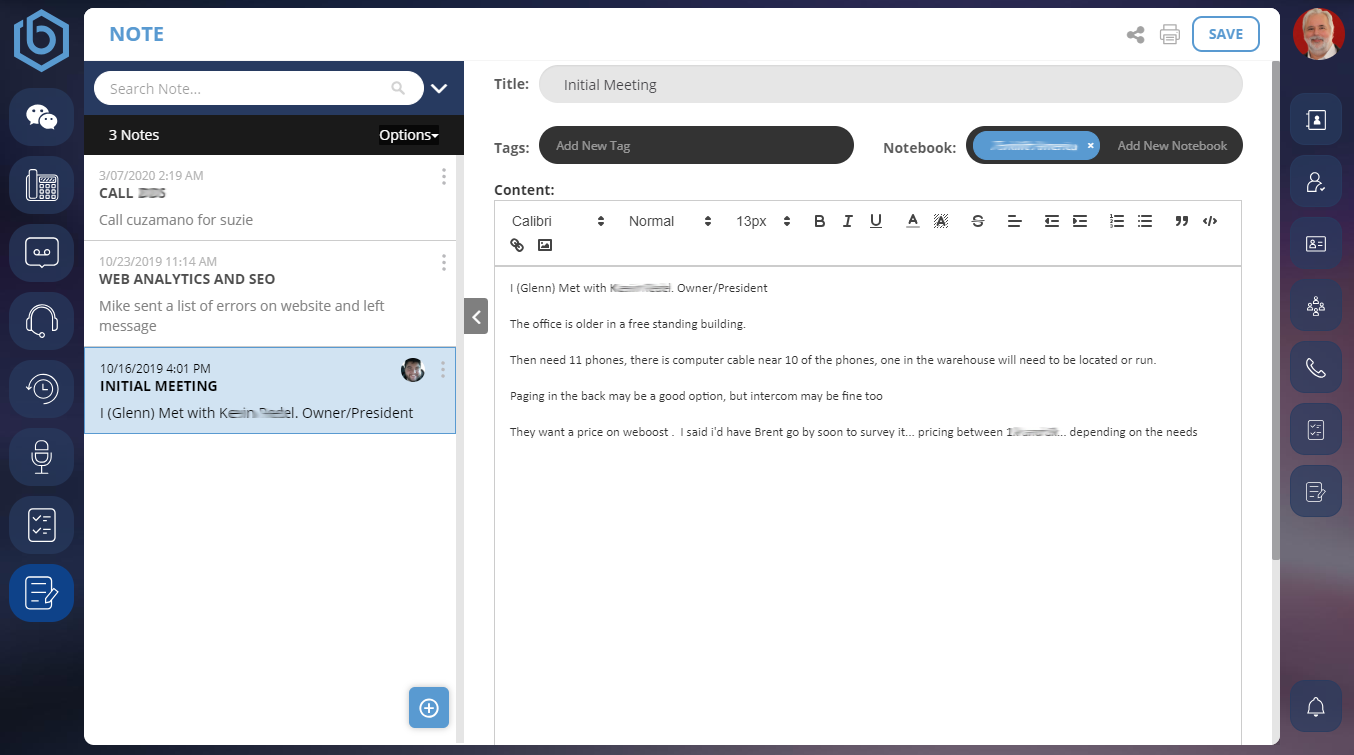 Web Video Meetings
Isn't it a pain to schedule and set up a video conference?  No more, its all in Boomea.  Start a meeting with one click. If you are already talking with your co-workers just boom them the 9 digit code. If your participant is not a Boomea user, no problem just email them the link with the 9 digit code, or have Boomea do it for you.  Example:  https://meet.boomea.com/123-456-789
Start a meeting
Schedule a meeting
Join a meeting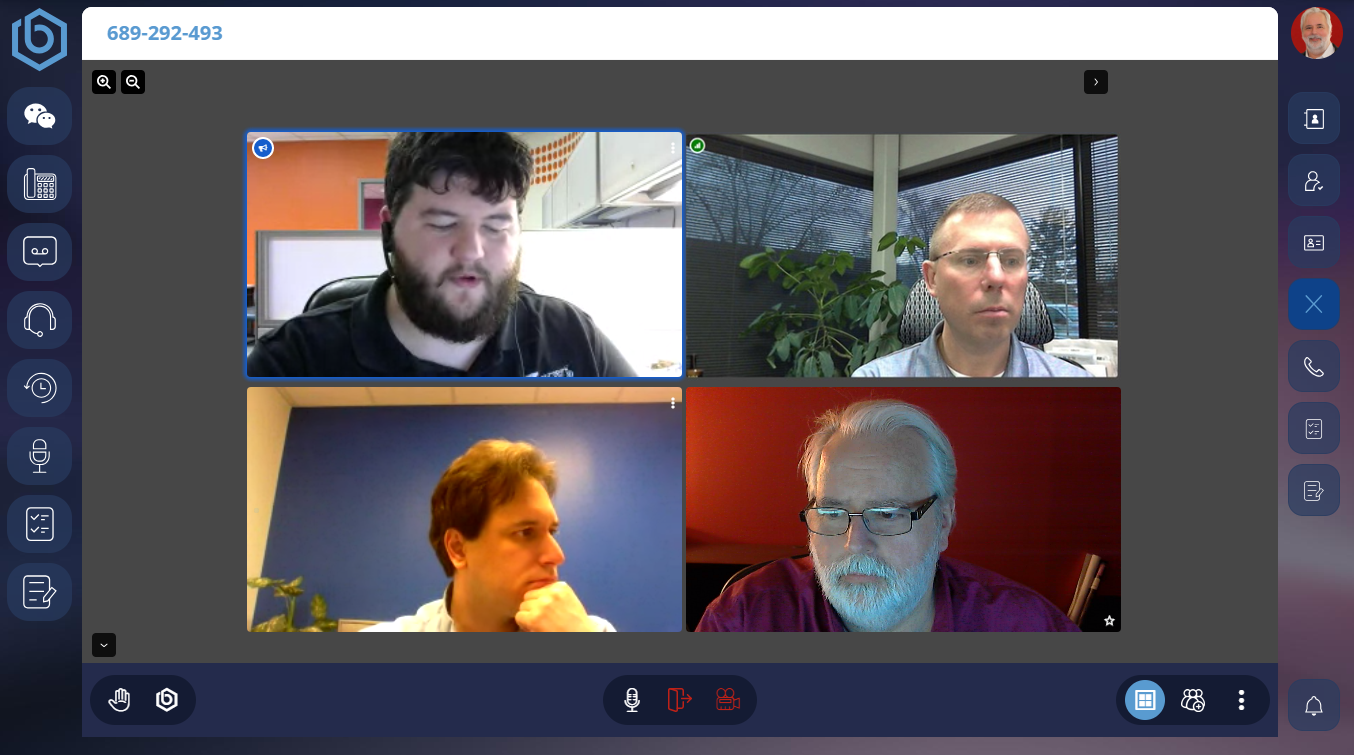 Boomea Right Bar
The Right Bar of Boomea is a great way to manage your communications quickly.  What can you do?
Company Directory – quick launch a chat or call with the right person in your company
Presence Groups – Create a list of co-workers who you can see if available or not
Contacts – Synced with your O365 contacts or your Gsuite Contacts.  Super easy and searchable
Web Video Meetings – Start a meeting, schedule a meeting, join a meeting. Then see or share your screen with everyone
Web Phone / Quick Call – Yep, Boomea can make and take calls too, right in your browser!
Quick Tasks – add a new task quickly and view the list
Quick Note – add a new note for your self quickly
Right Bar Screenshots

Getting Started is as EASY as 1 2 3

 Fill in the Voice Exchange Survey
 It sends us the needed info about your network and the type of system you have now 

Speak with your Metropark Account Manager
 We'll talk to fill in all the details that you may want so we can create the lowest price

 Receive, Review, and Approve the proposed MPVEX solution
 Yeah!!