MPVEX Voice Call Recording
Not every business needs to record customer calls, but the benefits of voice call recordings can be big — even for small businesses. If your company frequently receives calls from customers and you don't record at least a portion of them, you could be missing out on easy ways to improve efficiency, enhance the customer experience, and — most importantly — drive revenues. With Metropark Voice Exchange (MPVEX) Voice Call Recording available at a very reasonable cost, we believe it could be a valuable tool for your business!
Wow!! I had no idea that I can have my MPVEX calls recorded. Being able to hear what was ACTUALLY said could be a life saver!!
We agree(!!), but before we get into the many benefits of voice call recording, let's quickly run through some legal guidelines to make sure your business stays out of trouble. When you record a conversation, your business or organization must first make sure you are in full compliance with the laws of your state. The best way to ensure this is to check with your corporate attorney for a true, final determination.
While the U.S. federal law requires only one-party consent, many states have adopted different laws. In some states, all parties must give their consent or at least be notified that the call is about to be recorded (with necessary opt-out option: if you don't like them to record the call, you can ask them to stop recording or hang up). A case law decision from the 1950's, which went to the Supreme Court, affirmed that the federal law does not supersede state authority/statutes unless the call (or the tap) crosses state lines – that is why each state went ahead and established their own guidelines/statutes. Read more
here
if you'd like.
One Party Notification
means that at least one party on the recorded call must know that the call is being recorded, while Two Party Notification requires both parties be aware of the call being recorded. You may already be familiar with
Two Party Notification
, when after calling a company you are greeted with a recorded voice that says something akin to: "Thank you for calling ABC Company. This call may be recorded for quality control purposes. An ABC representative will be with you shortly…"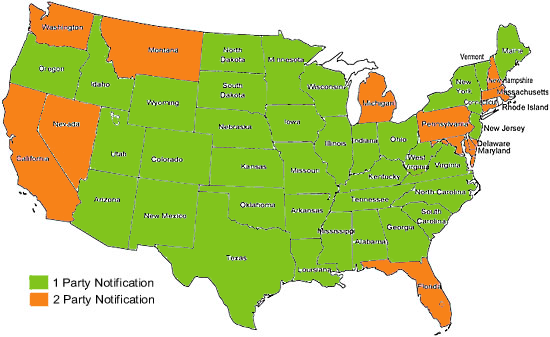 The map above indicates what each State has made public in its laws about recording conversations, though again, we highly recommend that you check with your attorney for further guidance.
Quietly Working for You
At first glance, voice call recording from MPVEX may not seem like one of the more exciting VoIP phone features, especially when compared with
MPVEX UC Boomea
,
Call Center
,
Nimbus Softphone
, or
Faxboxes
, but in reality, this feature is so much more than just a copy of a phone conversation you can listen to at a later date. When used efficiently, call recording can be a powerful tool to help gain significant insight about your customers and your organization.
Benefits of Voice Call Recording
Capture details you might have missed or forgotten
Coach your team more effectively
Get to know your customers
Enhance your product or service
Improve regulatory compliance and reduce associated costs
Provide fact based evidence in lawsuits
Capture customer stories
See how your customer service has evolved
Quickly bring a customer service agent up to speed
Send More Information
If you'd like more information about Voice Call Recording on your Metropark Voice Exchange, contact our Sales team below, contact your Metropark Account Rep, or give us a shout at (314) 439-1900 #2.